With a laboratory full of tools and interesting parts amongst which you can spot an automatic water dispenser, the remote-controlled car, and other inventions from the students, the HQ of the Arduino club gives all the vibes of a place where great things are in the making.
Babacar Ndiaye, Mohamed Ndoye, and Andrea Mouckagni all three second-year students at DAUST, who initiated the club last semester, do not run out of ideas for the next project they would like to work on.
The trio is far from being the only members of the Arduino club. As soon as the club was founded six months ago its membership subscription went up very fast to reach 30 members from all engineering majors with some still figuring out what field of engineering they will pursue. The Arduino club, which meets four times a week, gives members the perfect opportunity to create a community amongst students of similar interests but also to explore working independently on the inventions of their choice.
Laying back from his chair with designs of future objects showing from his laptop, Mohamed Ndoye raised his head and claimed eagerly: "Imagine being able to remotely close your bedroom door and turn off your lights when you are feeling lazy to get up or make a car just for fun, Arduino allows all of those things" before Babacar added : "Technology is fascinating."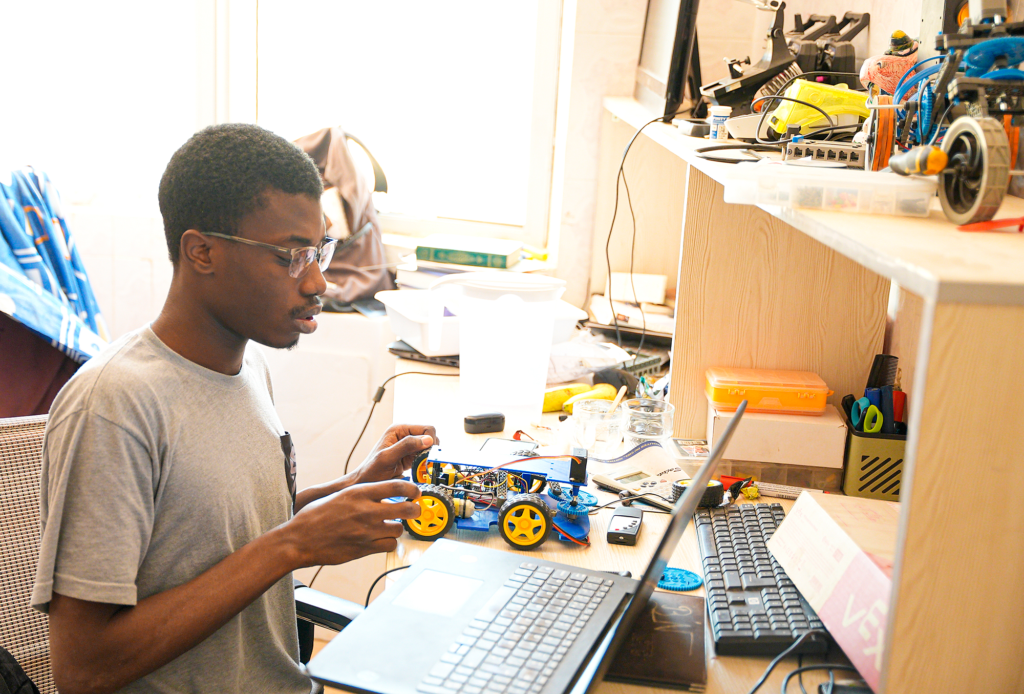 According to Ndoye, they start the design by doing thorough research on how they should go about it before modeling it in 3D, and then, using materials such as Arduino boards, motors, wires, sensors, electronic software, and battery, their inventions come to life. As these are personal projects, they take pride in pursuing them, seeking little outside help from professors. A design is never finished according to Ndoye, we must keep updating according to the latest technologies available.
As future engineers, they believe that the most important skills to have in their field are creativity, perspicacity, and determination, to that add a strong dose of imagination then all becomes possible.
Being a part of the Arduino club has helped us gain knowledge, skills, and a lot of experience. "We have learned many things," said Andrea Mouckagi, "I particularly enjoyed finding out about ultra-tonic sensors and then went on creating my own water dispensers and a motion sensor detector.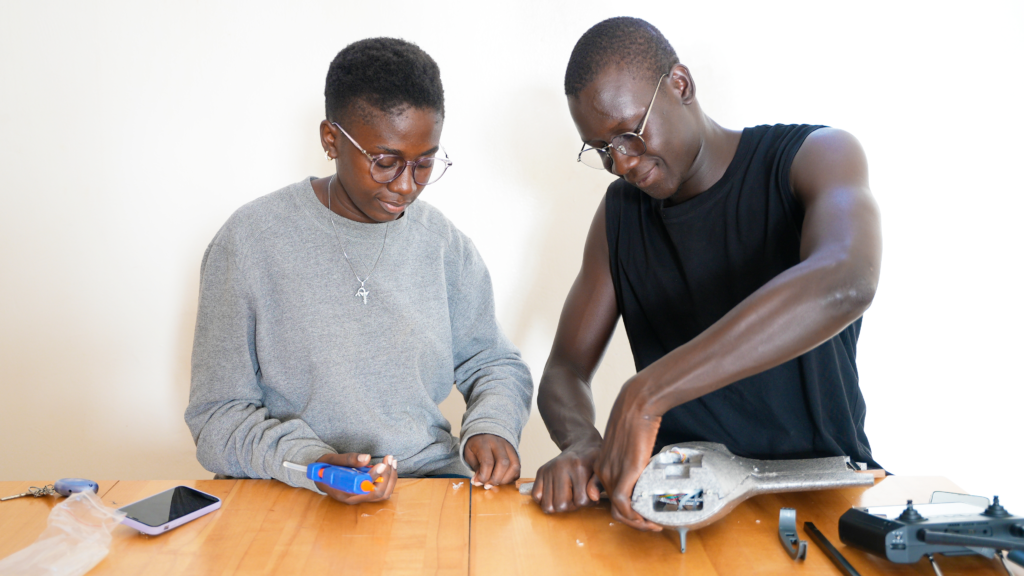 According to Babacar Ndiaye who is aspiring to be a Computer Science Engineer; "the club was initially just a group of friends sharing a common interest, then Andrea suggested that they broaden the circle and make it a club. Today the founders said after having gained a lot of experience as members, they enjoy tutoring other students. Babacar said: "It is a delight to see the excitement of a fellow student when they newly understand how a particular technology works". "Yes, it is as if we break down walls for them and introduce them to the secret of how some technologies are made".
Students in the club are excited at the perspective of learning more about single-board computers called Raspberry Pi and even ROS for robotics technology to name only those.As for upcoming actions for the club, Babacar and Ndoye advised: "We are planning to do activities with children and share with them the magic of new technologies". Andrea added. "On top of that, we would really love to develop the club to a standard that it could take part in international competitions" and that will be without a doubt a win.
Be a Daustian !